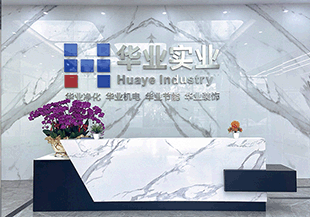 东莞市华业净化设备有限公司
是一家集设计研发、生产制造、安装调试等综合性大型合资企业,是净化行业中最早与国外知名同行合资企业之一,也是华南地区最具规模和实力的无尘无菌净化生产企业之一。


  

专业从事
空气过滤器、无尘净化设备、无尘室耗材、防静电产品、空调风口配件的设计、研发、制造、销售、安装和维护保养;并承建无尘无菌室、洁净工作棚、中央空调工程及环保节能工程
;客户遍及珠三角仍至全国各地,产品涉及塑胶电子行业、光电行业、精密仪器、生物食品、医药化工、航天科技、手术室、实验室等诸多领域。


  

本公司拥有高标准的无尘生产厂房,配备自动化 高效过滤器生产线,先进的数控机床等一流的生产制造设备,公司职中100%拥有专业技术资格认证并且从业经验丰富。我们以最先进的设备和最优秀的人才确保严格按照国家标准GB50073-2001、符合美国联邦标准FS-209E要求,执行GMP规格要求,确保为各行各业提供
初/中/高效过滤器、自净器(FFU)、层流罩(台)、无尘净化工作台、风淋室、传递窗等系列产品和一流的服务。

  

我们始终坚持"以质量求生存,以信誉求市场,以技术求发展,以管理求效益"的企业宗旨,秉承"创一流精品,树华业形象"的经营理念,不断将产品制造和工程和设计安装融为一体的专业化、集团化经营模式。竭诚为您提供一流的技术、一流的产品、一流的服务,最终为您打造一流的洁净空间。
Dongguan Huaye Purification Equipment Co., Ltd.is an integrated large-scale joint venture with designing,manufacturing, installation, We are one of the first joint ventures being foreign well known counterparts in the clean industry, and one of the largest scale and strength of the non Dust clean sterile manufacturing companies in South China.We are specialized in the design, development,manufacture, sale, installation and maintenance for air filters, dust free clean equipment, clean room consumables, anti static, air conditioning vent accessories, as well as the construction of clean sterile rooms, clean the work shed, central air conditioning and environment protection and energy conservation; Our customers extend all over the Pearl River Delta continues throughout the country, The products involved in the plastic electronics industry , optical industry, precision instruments, bio food, medicine and chemical industry, aerospace technology, operating room,laboratory and other areas.
Our company has a high standard of dust-free clean production plant which equipped with automated and efficient production line filters,along with advanced CNC machine tools and other first-class manufacturing facilities, All the staffs have professional and technical qualification and rich experience. Based on the most advanced equipment and the best talents, We ensure to be in linewith the U.S Federal Standard FS-209E requirements strictly, the implementation of GMP specifications, to make certain the provision of all walks of life at early / medium / high efficiency filter,self-purification device (FFU), laminar flow flood,dust-free clean bench, air shower, passing windows etc,and excellent service.
We always adhere 1o lhe corporate purposes as "quality for survival, reputation for market, technology for developmenl, management for efficiency", Based on the business philosophy of "first class products to build Huaye identity", we constantly make self production and marketing of products, engineering design and installation to integrate the professional and group business pallern Dedicated to provide lhe first-class technology, first-class products,room for you.